When we focus on what we want, we have always wanted them yesterday.
During the last 12 months, the world has seen a different side to everything that was ever once normal to all of us. It changed us all. It changed the way we think, the way we deal with situations and the way we treat others. It also gave us a chance to slow down and reflect on ourselves. What do we want as individuals?
The pandemic put us in the most important place and around the most important people in our lives….. At Home with our Families.
So, to get through the Pandemic (Which we think we did…) and to look towards a brighter future, we have put together some keys points that you could use to move forward on a positive note!
Every few weeks we will be sharing our tips and ideas to help you see things in a different way. Starting with the heart of the home,(or should we say, The Stomach!) – Your Kitchen
Upgrade your Kitchen without excessively eating away at your pockets.
They say a change is as good as a holiday. But, did you know, that, our oceans contain almost 200,000 different kinds of viruses?
So, considering what we have been through, we think it's best to say …… "STAY HOME AND REDO YOUR KITCHEN!"
Here are some ideas you can use to change, upgrade, or modify your prepping space:
Swap out lighting — Beacon Lighting have consistent sales. Look at this Leconic 1 Light Pendant in Ashwood. Being less than $250.00, it won't break your budget. Best to go for the industrial look as its bold style can add warmth and character to a bland kitchen.
Add new hardware – Did you know, Brass knobs disinfect themselves. The ions in the metal have a toxic effect on spores, fungi, viruses, and other germs, eliminating the infections within eight hours. WOW! In addition, Brass colours go well with an Industrial approach, bringing out a modern feel.
Repaint the cabinets. Sage Green is the new colour, making it a versatile choice that goes with any accessory or different material finish. Or you could even go out on a limb and paint half your cabinets dark grey and some cabinets White. Here's one we prepared earlier….. (kidding)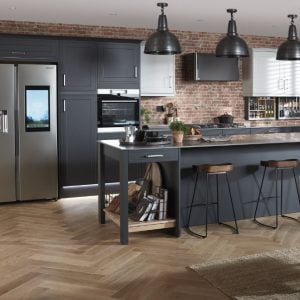 Window Coverings – ok, this is where we come in. Don't be shocked when we say two words….. "Aluminium Shutters". Yes – you read correctly. ALUMINIUM SHUTTERS!
Just because they're Aluminium, doesn't mean they belong only in an Alfresco or external area. Aluminium Shutters can also be used for inside the home. Nothing will bring out that technical look more than these images below!
And another "did you know" fact – Curtains and Blinds installed over a cooktop can cause fire and damage to your home. Seems quite straight forward we know, but the number of enquiries being asked today about having Blinds installed over a heated area is nothing short of a joke.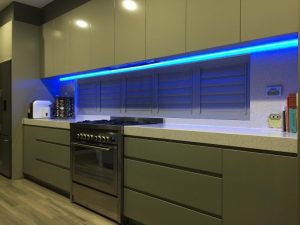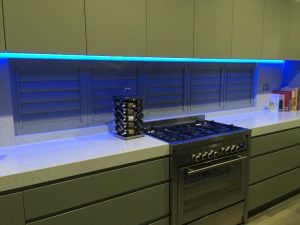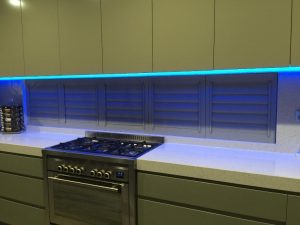 Images: Provided by Your Business Consultant