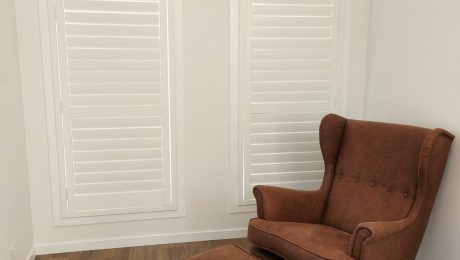 When it comes to Plantation Shutters, every day, we get asked questions like – "What's the difference between X product and Y Brand?"
It's not an incorrect question at all. In fact, (Because JHS Blinds and Screens Sydney share only the facts) there are slight differences in all Plantation Shutters but we can't answer your question until we question you in return – "What do you want out of, your Plantation Shutters?"
Water resistant – Most engineered poly material Shutters are ideal for wet areas. Benefits of this specification is that they will not rot, absorb moisture, delaminate (break into layers) or even promote mould. "Ok, Bathroom it is then…. NEXT!"
Fancy words – Do your research before obtaining a Quote. There are many types of materials out there on the market and doing some research in the raw materials of Plantation Shutters can help minimise the confusion. There's nothing wrong with using fancy words to make you go WOW but at the same time it can help you understand what it is, you are actually paying for.
We'll let you in on a little SECRET…. Reinforced Polymer Extrusion – AKA – PVC. AKA – Plastic. That fancy word you read right there? Plastic, that's all it is…. plastic guys!
Sometimes you need the icing on top of the cake to make it look good, but at the same time that icing oozes a lot of benefits. Just like PVC Plantation Shutters, they carry heaps of mouth-watering points for the chosen window.
As mentioned before – Water Resistant
The real wood look with the benefit of poly materials
Termite resistant and does not support any bacterial activity
Will not crack, sag, warp or split
Well if Covid totally stuffed up your chance of travelling to North America, then why not bring North America to you?
This is where the next material comes in handy.
Engineered Premium Basswood – AKA – Tilia Americana. AKA – Timber Plantation Shutters.
Enjoy the view with engineered wood. Prevents twisting to ensure the lifespan of the Shutters to live its full potential and high-quality paint for a hard but flexible, long lasting finish.
JHS Blinds and Screens offer Sydney Plantation Shutter buyers the chance to choose from 10 painted colours and 12 stained shades.
The buck doesn't stop there!
Special Shaped Shutters can be any other shape except square or rectangle.
Do you have an Internal window that looks out of the ordinary?
JHS, based in Sydney, can cater to your specially shaped windows and along with our FREE Measure and Quotes, we can consult with you the best way to go about covering your irregular shaped openings.
So, whatever the questions are – it's best to do your research first. Ask as many questions as you can and prepare yourself during your next build or renovation.
JHS Blinds and Screens Sydney are always here to help you with any enquiries, problem solving and Free Consultations. So "Shutter up" today and Email us at sales@jhsblinds.com.au
For more information, building ideas, and to keep up with us, follow us on Facebook and Instagram
Facebook: www.facebook.com/jhsblinds