Wednesday, 28 October 2020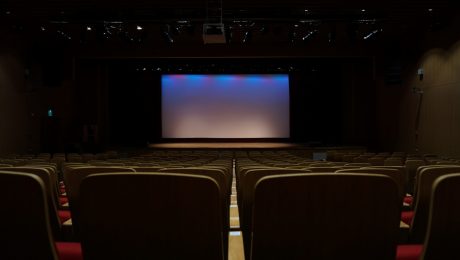 Since Covid took over so has staying at home, streaming movies, and eating in.
The family Theatre room has been the place to be in our crazy world of isolation. So why not bring your theatre room to life with sounds, systems, and Shutters! (or any blockout window covering)
Many of today's builds, clients request that theatre rooms are just as important as the master bedroom. Bringing so many benefits to the table which include increasing the value of your home. You also get to have the cinema feel without the hassle of going out or waiting in line and best part is, you get to sneak in as many snacks as you want!
Here's how you can turn your theatre room into the seventh wonder of your home.
Choose Dark Colours for your walls and flooring
If you really want that cinema experience, whether it be watching a movie or game interaction then the last thing you want is a brightly textured room to spoil the mood. Dark charcoals, greys and even the straight black can set the room and make you want to stay in on a Friday night. Dark carpeting creates a much cosier comfort zone as well as choosing dark colours for any tv units or shelving. Not a carpet person? Dark tiles are easier to keep clean and you can always place a rug down if the kids want to lounge out on their beanbags.
Get in touch with surround sound operated wirelessly
If you want to be in the middle of all the action, save the car crashes or remember the tune from your favourite you tube video then surround sound is the best choice.
It's almost a necessity now to complete your home theatre. It delivers the sound based on where it's coming from. Front, left, right, to give you that cinematic feel and bring your visual to life. Modern Technology has made Surround sound systems much more affordable and different variants make it simple to meet the needs of all types of budgets.
Block out as much natural light as you possibly can
This is where JHS Blinds and Screens Sydney come in! Sit back, relax, and be entertained with no glare on your TV Screen or no natural light peeping through from outside. The best option for window coverings in your Home Theatre room are Block out Curtains. Choose Dark colours to match with your dark walls. When the lights are off and the room is closed, should nothing get in your way of late-night entertainment and home comfort!
Another option for window coverings in the theatre room can be Translucent Roller Blinds as well as the Blockout Curtains. Take advantage of privacy during the day with your curtains opened but your roller blinds down. This creates a cozy, yet secured feel during the day time when the theatre room is not being used. Add that extra luxury to the room and motorise your roller blinds. Contact us today to bring motorisation to your windows
Keep your Décor` to a minimum
The last thing you want is to have your favourite Vase accidently tipped over in the dark because you can't see anything but the screen in your home theatre. Sure, the screen will give a little light, but the whole purpose for a home theatre is get that cinema experience. Do you see décor` at the movies?? Maybe left-over popcorn on the floor but no décor`. So, keep those fake flowers and candles for another room in your home.
For more information on Motorisation and Blockout Window Coverings, contact us today
Comfy seating, beanbags, snacks and nothing but the Remote control
Make sure everybody knows where the remote control is. Nothing left to do now but sit back and be entertained in the comfort of your own home!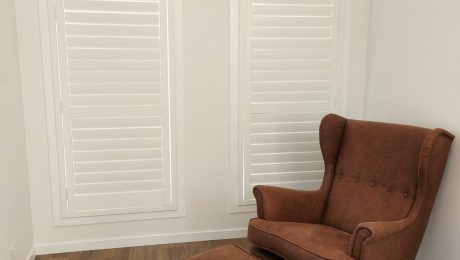 When it comes to Plantation Shutters, every day, we get asked questions like – "What's the difference between X product and Y Brand?"
It's not an incorrect question at all. In fact, (Because JHS Blinds and Screens Sydney share only the facts) there are slight differences in all Plantation Shutters but we can't answer your question until we question you in return – "What do you want out of, your Plantation Shutters?"
Water resistant – Most engineered poly material Shutters are ideal for wet areas. Benefits of this specification is that they will not rot, absorb moisture, delaminate (break into layers) or even promote mould. "Ok, Bathroom it is then…. NEXT!"
Fancy words – Do your research before obtaining a Quote. There are many types of materials out there on the market and doing some research in the raw materials of Plantation Shutters can help minimise the confusion. There's nothing wrong with using fancy words to make you go WOW but at the same time it can help you understand what it is, you are actually paying for.
We'll let you in on a little SECRET…. Reinforced Polymer Extrusion – AKA – PVC. AKA – Plastic. That fancy word you read right there? Plastic, that's all it is…. plastic guys!
Sometimes you need the icing on top of the cake to make it look good, but at the same time that icing oozes a lot of benefits. Just like PVC Plantation Shutters, they carry heaps of mouth-watering points for the chosen window.
As mentioned before – Water Resistant
The real wood look with the benefit of poly materials
Termite resistant and does not support any bacterial activity
Will not crack, sag, warp or split
Well if Covid totally stuffed up your chance of travelling to North America, then why not bring North America to you?
This is where the next material comes in handy.
Engineered Premium Basswood – AKA – Tilia Americana. AKA – Timber Plantation Shutters.
Enjoy the view with engineered wood. Prevents twisting to ensure the lifespan of the Shutters to live its full potential and high-quality paint for a hard but flexible, long lasting finish.
JHS Blinds and Screens offer Sydney Plantation Shutter buyers the chance to choose from 10 painted colours and 12 stained shades.
The buck doesn't stop there!
Special Shaped Shutters can be any other shape except square or rectangle.
Do you have an Internal window that looks out of the ordinary?
JHS, based in Sydney, can cater to your specially shaped windows and along with our FREE Measure and Quotes, we can consult with you the best way to go about covering your irregular shaped openings.
So, whatever the questions are – it's best to do your research first. Ask as many questions as you can and prepare yourself during your next build or renovation.
JHS Blinds and Screens Sydney are always here to help you with any enquiries, problem solving and Free Consultations. So "Shutter up" today and Email us at sales@jhsblinds.com.au
For more information, building ideas, and to keep up with us, follow us on Facebook and Instagram
Facebook: www.facebook.com/jhsblinds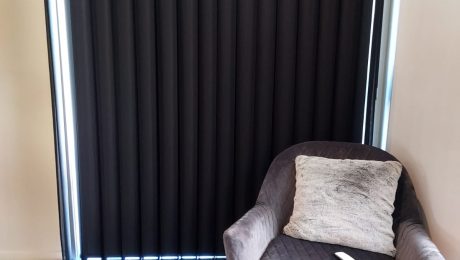 What are Veri Shades?
Made from 100% Polyester Woven Fabric – Veri Shades have the look and feel of curtains in addition to the versatility of Blinds. JHS Blinds and Screens can turn your home into a cord free, motorised sanctuary.
Different to other types of Blinds, Veri Shades can be installed onto large openings and can span up to six metres. And do not be too stressed with thinking ahead about maintenance. These beautiful shades can be easily taken down and washed separately then replaced as easy as 1,2,3.
What makes Veri Shades so enticing?
With no weights or chains, you can walk through them whether they are open or closed. Veri Shades move with you then settle back into place. Peacefully.
Speaking of peacefully, Veri Shades have close to no sound at all when being operated. With no cords, weights or chains, these curtains speak for themselves! (Get it?!)
Being a family company, we understand how important it is to keep our little ones safe. Another benefit in having Veri Shade installed in your home by JHS Blinds and Screens is that there are no cords or chains attached. Operation and control is done by using the wand which means it keeps our loved ones and pets safe!
Motorise your Veri Shade by JHS Blinds and Screens and reap the benefits of luxury and admiration from all who enter your home (or office).
Durability
Being Australian owned and made, the creators of this magnificent product knew exactly what to incorporate into the fabric to make it durable and resistant to fading. The fabric is UV stabilised and Fire retardant Veri Shades are also available.
What next?
JHS Blinds and Screens, based in Sydney, Supply and Install Veri Shade. We offer a wide range of fabric colours and tracks that you can choose from to suit your lifestyle or interior design needs. Choose to motorise your Veri Shades by JHS Blinds and Screens for added comfort and style. We offer a FREE Quote on all Veri Shade Installations, including consultations from our highly trained technicians. Mention our website and get a further 10% off your Veri Shade quote.
Contact our friendly team today to get Veri Shade!
#JHS_its_a_family_thing