Husband's (Father's) Day: Give him something Special
(But at the same time, make sure the gift benefits you too!)
Father's Day is right around the corner and if you're like me and have young children then you're most likely going to be the person that buys the gift, wraps it, then writes out the card on behalf of the children. So, basically, it's called Husband's Day.
So why not organise a gift for him but think of what you would want too? Classic!
How does an Automated Home System for your Window furnishings sound? Not only will it bring you a hands-free luxury lifestyle, but you'll never complain about him leaving your Blinds open again!
JHS constantly teams up with high quality and innovative networks to keep up in today's market. So, in saying this (or writing about it) we proudly present to you the Connexoon Window RTS App from SOMFY.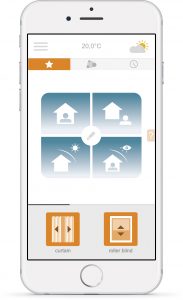 Not only will your Life Partner or Husband benefit from this extraordinary system but you can too. Here's why:
You can control up to 30 Blinds per Connexoon from your Smartphone
Schedule your Blind motion at a time you want, which means you don't need to pace around your house opening or shutting your window coverings.
Remote access even when you're not home. Picture this: Stuck in traffic, it's getting late and you realise you left the Blinds open this morning. Connect through the Connexoon App (make certain you have internet connection) and shut your Blinds all at once – helping you feel safe and secure while you're still out on the road.
We said that you too would benefit from this gift as well as your partner. The Connexoon App has the ability to connect to 4 smartphone Devices. His and Hers – Isn't that cute?! Google Home can control your Blinds with Voice control when used alongside this device.
So, put an end to all these indecisive moments when shopping for a Father's Day gift and just think of what you would want to make your life simple. A JHS Install of the Connexoon Window RTS App Thanks!
P.S Happy Father's Day Guys!! xx