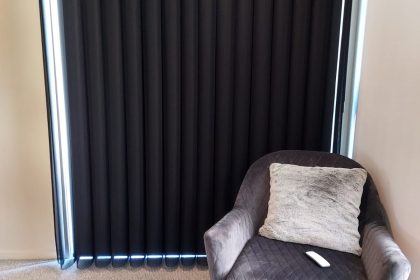 What are Veri Shades?
Made from 100% Polyester Woven Fabric – Veri Shades have the look and feel of curtains in addition to the versatility of Blinds. JHS Blinds and Screens can turn your home into a cord free, motorised sanctuary.
Different to other types of Blinds, Veri Shades can be installed onto large openings and can span up to six metres. And do not be too stressed with thinking ahead about maintenance. These beautiful shades can be easily taken down and washed separately then replaced as easy as 1,2,3.
What makes Veri Shades so enticing?
With no weights or chains, you can walk through them whether they are open or closed. Veri Shades move with you then settle back into place. Peacefully.
Speaking of peacefully, Veri Shades have close to no sound at all when being operated. With no cords, weights or chains, these curtains speak for themselves! (Get it?!)
Being a family company, we understand how important it is to keep our little ones safe. Another benefit in having Veri Shade installed in your home by JHS Blinds and Screens is that there are no cords or chains attached. Operation and control is done by using the wand which means it keeps our loved ones and pets safe!
Motorise your Veri Shade by JHS Blinds and Screens and reap the benefits of luxury and admiration from all who enter your home (or office).
Durability
Being Australian owned and made, the creators of this magnificent product knew exactly what to incorporate into the fabric to make it durable and resistant to fading. The fabric is UV stabilised and Fire retardant Veri Shades are also available.
What next?
JHS Blinds and Screens, based in Sydney, Supply and Install Veri Shade. We offer a wide range of fabric colours and tracks that you can choose from to suit your lifestyle or interior design needs. Choose to motorise your Veri Shades by JHS Blinds and Screens for added comfort and style. We offer a FREE Quote on all Veri Shade Installations, including consultations from our highly trained technicians. Mention our website and get a further 10% off your Veri Shade quote.
Contact our friendly team today to get Veri Shade!
#JHS_its_a_family_thing